24 Feb, 2022
What are precision machine components?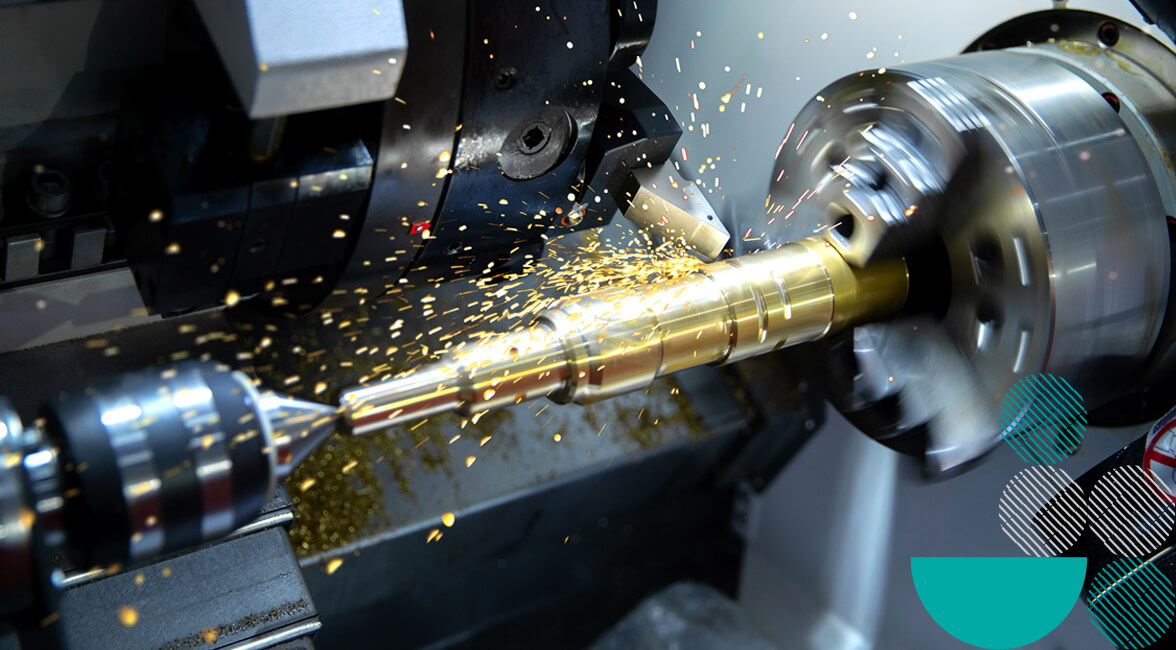 Have you thought about how machinists make heavy aluminum tools and engine parts? They certainly did not create them with their hands or produce them in a furnace. In fact, they used the process called "Precision Machining". It is the main element in the creation of hardware that holds up the current developments in technology.
The precision machining has paved the way in the generation of parts and components for several tools used in our daily life. Especially, precision machined components transformed industries like aerospace, automobile, HVAC, and other manufacturing industries. Moreover, the components created with precision machines have high quality and accuracy. In addition, these components can cut materials like aluminum, copper, plastics, and steel with great accuracy and no manual involvement.
What if you require to optimize a mission-critical component? Then, you must know what is precision machining and how it is used to endorse advances in contemporary manufacturing.
Let's delve into the significant precision machining and its components.
About Precision Machining:
Precision machining is the technical manufacturing used in developing and designing parts, tools, and machines necessary in modern manufacturing. This helps to manage tolerances and process controls that work under strict conditions.
Precision machining uses are there in big and small objects and their components. If there is an object with small parts, generation is through precision machining for proper fitting and great functionality.
Precision Machined Metal Parts:
Precise machined parts generally have complicated features and precise conditions. These parts consist of holes, grooves, threads, and tapers which should fit properly with other components.
Precision machining generates metal parts with precision for the proper functioning of the product. For instance, the components used in automobile engines need precise requirements for optimum performance.
As machinists utilize specific equipment for tolerance, there are fewer chances of error. Moreover, our machine parts manufacturer uses computer numerically controlled machines (CNC machines) to create a broad range of complex metal parts.
The Precision Machining component making Procedure
The precision machining procedure usually begins with a sketch using computer-aided design (CAD) software.
To execute this, engineers make a 3D diagram of a hand-drawn sketch using AutoCAD software.
Then, machinists put that design into CNC machines or computer-aided manufacturing (CAM) programs. However, computers remove the raw material to develop precise parts.
Precision machining processes follow the path of accuracy. On the basis of computer software instructions, every cut furnishes through a machine.
The machines can do precise cuts with fewer errors. This tends to repeatedly generate hundreds of the alike parts with similar specifications and tolerances of 0.01-0.05mm.
Where Are Precision machine components Used?
Precision machining is an important part of the construction of components.
Following Industries count on precisely machined parts to manufacture products fulfilling safety and quality standards:
1. Aerospace
We function on AS9100 – a universal standard accepted for quality manufacturing and manufacturing procedures. On top of that, our team works with exceptional metal to general environmental-friendly solutions.
 2. Heating, Ventilation, and Air Conditioning (HVAC)
We manufacture and deliver many components and assemblies to the best OEM manufacturers in the world. Our motto is to stay abreast with the modern equipment and engineering resources to generate the best-quality components.
3. Automobile
We own a reliable system to manufacture components for the automobile industry. Our products made from advanced quality raw materials are in accordance with the standards of the industry. Also, our modern machinery suits well with automotive customers.
4. CPVC Fittings(Chlorinated Polyvinyl Chloride)
Schilthorn provides great innovation in Brass CPVC fittings for the irrigation, plumbing, and sewerage industries. Our latest infrastructure covers advanced tools and machinery for quantitative and qualitative production.
5. Fittings and Fasteners
We are foremost manufacturers and exporters of different Brass inserts in several lengths and breadths. Customers prefer our products due to their great performance and high tensile strength. However, the inserts are accessible in a variety of sizes, connections, finishes, and diameters.
6. Oil and Gas
We comprehend the significance of precision machining as equipment must sync with the quality and safety standards. Other than that, we deal with many materials such as Titanium, Non-Ferrous Material, Aluminum, Alloy steel, and Engineering plastics. Our first-class manufacturing parts and supply of service from initial formation to final delivery is paramount.
Where else is precision machining used?
Precision machining is efficiently used to design parts, tools, custom fasteners, and other important hardware. Thus, the parts should have a higher tolerance for an accurate fit with other components.
The interesting fact is that precision machining maintains reliability for mass-production components. This is particularly seen in producing fittings. Precision machine parts manufacturers make sure for constant and reproducible outcomes.
Furthermore, precision machining is perceivable in the completion of metal products. For instance, you can use precision machining via die casting or less precise fabrication techniques to finish produced parts. On the contrary, precision machining has its uses in Restoration work.
Also, worn parts might require grooving, welding, or calibration within a period, Therefore, computer-aided equipment will restore the parts to their original state.
Why select Precision machine components for your Project?
There are many reasons for choosing precision machining as it is the best process in international manufacturing.
Let's head over with the advantages of precision machining:
1. Highest accuracy level
The infinitesimal millimeter can create an impact in global manufacturing specifically in the medical electronics industry. Due to this reason, precision machining is at the utmost priority in the industry. Every manufacturer requires precise specifications and drawing and the preparation of CNC machines conducts accurate cuttings.
2. Less raw material wastage
Although precision machining has subtractive manufacturing, which generates more material waste than additive manufacturing, it lowers the error rate and builds quality. This reduces the wastage of bad-quality products, or repetitive procedures and utilizes more material.
Moreover, the precision machined components succeeded in bringing down raw material wastage as the cut components bring great accuracy. We are aware that raw materials like graphite, copper, steel, and plastics are expensive, and any waste is not highly acceptable.
3. Quick Assembly
The precision machines set up the components automatically and there is no manual interruption for assembly. As the process is fast and automatic, the production time is drastically reduced.
4. Cost-efficient
With fewer errors and generating supreme outputs, precision machining can extremely reduce the manufacturing cost. It enables manufacturers to have a proper financial plan for production and decreases labor expenditures.
5. Safe production
Accidents are the most common thing in manufacturing. As per the US Labor of Statistics, there were 303 critical work injuries in the manufacturing industry. Machinery accidents are distressing, but thanks to the automated procedure of precision machining reduce their occurrence.
6. Effectual and fast production
Since the computers control precision machined parts and have every detail of production programs, they are effective and speedy in generating the outcomes.
7. No manual involvement
With the usage of precision machined components, there is no tendency for human blunders, which leads to resourceful results.
8. Functional prototype manufacturing
The most crucial benefit of machining is that it can generate prototypes similar to end-use components. This means that CNC machining allows the customer to prototype their product using the end-use material. Further, it endures testing for the quality and feasibility of the design.
Through Prototype machining, engineers and designers can fix the issues. Along with that, they can showcase to the customers the functionality of the final product.
9. Zero errors
The automated precision machining procedure begins after the specifications are known. There are nil errors compared to human machining. During outsourcing, you need not recruit and hire skilled staff to operate these machines.
Which components does Schildthorn hold expertise in?
1. Milling Components
We provide you with high-performance vertical and horizontal milling centers for your machined parts using cost-efficient methods. From super duplex, and titanium, to Aluminium and stainless steel, we cover all the materials. Additionally, our machines fitted with WIPS probing and laser tool breakage detection assure quality.
2. Turning Components
Schilthorn supplies Turning components for consistent performance which has high thread integrity, tight tolerance, and burr-free edges for a fine finish. Our precision engineering facilities blend CNC Turning and turn-mill to generate simple and complex components for diverse sectors.
3. SPM Components
To enhance the quality of the product and deliver first-rate components in bulk, we created a series of Special Purpose Machines. We generate customized machines that are suitable for the process of turning, milling, and threading.
How we help you with precision machined components?
Schilthorn manufactures precision machined components with great accuracy and ideal dimensions for important sectors. Our modern machinery, materials, and equipment fulfill the current standards of the industry.
On the other hand, our precision machining components and manufacturing ranges from prototyping to production capability. We not only deliver precision engineering parts but also innovative methods for your business optimization:
Our top-notch quality machines that fit your specifications are as follows:
Lathe Machine
Automatic Lathe THU
Surface Grinder
Bench Grinder
Hacksaw Machine
Cutting machine
Drilling machine
SPM Automates
Slotting Machine
Thread Rolling Machine
Forging Press
Polishing Machine
Engraving Machine
HAAS make Horizontal Milling Centres
HAAS make Vertical Milling Centres
HAAS make CNC 2 axis Turning Centres
TurnMills
What are our other manufacturing capabilities?
1. Forging
Our forging facilities comprise completely automated forging press lines that vary from 1600T to 16000T. The billet cutting equipment like shearing machines, saw cutting machines, high-speed shearing machines, and circular saw machines support the forging lines. The main features of this capability are high toughness, custom part flexibility, and excellent surface finish.
2. Surface Treatment
With our superior technologies, surface treatment is highly achievable in manufacturing and assembly, pre-treatment before electroplating, anodizing, galvanizing, painting, and powder coating. Not only that but also it helps in the removal of surface coating and deposits before reprocessing. The best features of this capability are it enhances corrosion resistance, gives a better surface finish, and wear and tear resistance.
3. Welding and Fabrication
Our best team of technicians works with your team to get a clear-cut idea for the welding and fabrication of every component. Moreover, welders and inspectors examine every stage of a project to match your requirement with precision. The top features of this capability are that there are many welding and fabrication options, specialized NDT testing done, and precisely engineered products.
Apart from that, we engage in acquiring raw materials, processing, surface treatments testing of units, quality assurance, and delivery of products.
With us, you can stay assured of precision machining as we consider factors like operational control processes, extensive inspection devices, best-quality control systems, and quality checkpoints to increase efficiency.
4. Final Takeaway
Since the initiation of the industrial revolution, precision machining has molded in many ways and will be more precise with time. Computers automatically remove the material to generate precise parts. The machine completes every cut based on the instructions from the computer software.
Using precision machined components, you can avail fast, efficient, safe production with less raw material wastage!
Schilthorn has made its place as the best precision machined components manufacturer in India serving customers in numerous industries. Our production capacity and in-house capabilities such as designing, prototyping, CAD/CAM programming, and tooling are properly done.
Precision machine components, Core values, Precision machining process